There's no such thing as a 'self employed mortgage' or even 'self employed rates'!
This is one of many misconceptions about the mortgage market if you work for yourself. Its also not as difficult as you may think to get approved for a mortgage. In reality, its no more difficult to get approved than someone who is employed and you will have access to the same market leading competitive rates.
As long as you have the right documents in place that can show you have a consistent and reliable income, it's possible to get through the application process pain free.
It can be helpful to view the mortgage process from a lenders point of view. As well as the usual credit checks, all lenders are now legally bound to make sure you can afford the repayments. For them it's all about evidence of your income, business structure and having confidence in you being able to afford the mortgage repayments.
In short, give them what they need and they're more likely to give you what you need in the form of a mortgage offer letter. To help you get there, here's five tips to improve your chances of getting the right decision.
1. Know What Income Can Be Included
First of all, if you own more than 20% of the shares in a business you will be classed as Self Employed with the majority of lenders. If this is the case then how your business has been set up will determine the type of income taken into account and will influence a lenders decision.
Income from a Limited Company
If your business is set up as a Limited Company you will need to disclose your dividends and salary for at least the previous 2 years. If you haven't taken much income from the business and retained it within the business, the good news is that a select few lenders will also consider the 'Retaining Profit' which can help boost affordability.
Documents Required: You will need to provide full accounts from a qualified accountant for the past 2 years as a minimum.
Income from a Sole Trader or Partnership
If you're a Sole Trader, the net profit before tax over the past 2 years will be included. It's the same for a Partnership, but the net profit will be split by your share of the profit.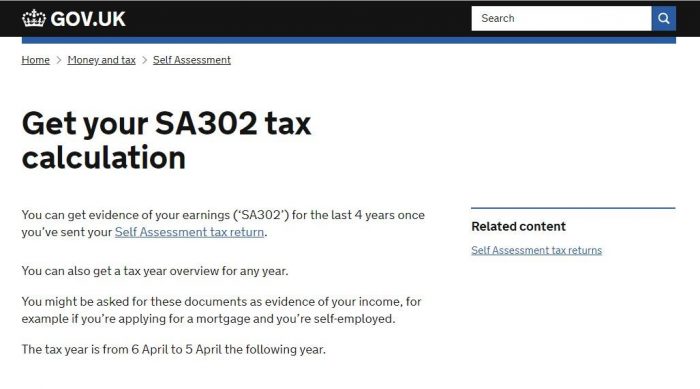 Documents Required: You will need to provide a copy of your Tax Calculation Summary or SA302 plus a corresponding Tax Year Overview for the past 2 years. You can either download this yourself from the HMRC website or your accountant should be able to provide this for you.
2. Have Up to Date Accounts Ready
It sounds so obvious but the first thing you need to ensure is that your accounts are up to date. Most mortgage lenders will not accept accounts that are more than 12-18 months old. So if you've been putting off sending your figures to your accountant, now is the time to get it done. This could potentially delay your mortgage application so get the kettle on and crunch those numbers.
3. Have a Minimum of 2 Years Accounts
Again it's easier to get a mortgage approved if you have at least 2 years accounts, although some lenders require 3 years. So what happens if you can only provide proof of your income for one year?
You could still get a mortgage but it means the choice of lenders will be restricted and you may not have access to the most competitive deals without a larger deposit of around 20%. Having the right mortgage adviser by your side can make all the difference in this situation by saving you time finding a lender that will accept one year of accounts and money by finding you the most competitive deal possible.
4. Get the Right Accountant on Your Side
Not all accountants are considered equal by mortgage lenders and will require that they have one or more of the following qualifications before accepting their accounts as proof of your income. Some of these are:
ACA, FCA, CA, ACCA, FCCA, AAPA, FAPA, ACMA, FCMA, MAAT, FMAAT, AAIA, FAIA, AFA or FFA.
So if you already have an accountant, check their website and confirm that they are Chartered or Certified with at least one of the above qualifications.
5. Check Your Credit Rating
Any mortgage application will involve the lender checking your credit history to make sure you have a good track record of repaying debts. Any history of missed payments, rejections or errors could cast doubt over your finances and ability to afford or repay the mortgage. It's simple to check your credit file online and for free with one of the main credit reference agencies such as Equifax or Experian.
If you discover anything that could cast doubt over your ability to afford or repay credit, get it corrected before applying for your mortgage. Missing this step could result in higher monthly repayments or a rejection.
Other Common Problems
So what if you have recently started your business and can only provide one years accounts? Or perhaps your latest accounts show a large increase or decrease in profits?
I've Only Got One Years Accounts – There are lenders who will consider this scenario but your accountant will need to provide a projection for the 2nd year. Most lenders will take the income from the full years accounts though and not the projection, so be aware of this and that your borrowing potential could be affected.
My Income Can Fluctuate – If there's a big jump in profits in your latest year of accounts this can cause more questions from the lender. They will usually want to know why there has been a large increase and will need reassurance that the level of income is sustainable. They may take an average of the last 2 years or the lower income figure from the previous year.  Likewise, if your profit has dropped significantly, lenders may require reassurance that a decrease is temporary and not a sign of things to come.
How a Mortgage Broker Can Make the Process Easier and Cheaper
A good independent mortgage broker will have an in-depth knowledge of high street and specialist lenders including their real-world acceptance criteria. This experience can be crucial in going straight to the best lender for both eligibility and interest rate whilst protecting your credit rating from being damaged by unsuccessful applications.
If you would like a free review of your mortgage prospects so you can make the right decisions for your specific circumstances, please contact us on 0114 303 4007.