If you're a first time buyer struggling to save for a deposit, a Help to Buy mortgage may be the ideal option to make your property dreams a reality.
Help to Buy is a government scheme designed to help first time buyers get onto the property ladder and also to assist home movers to move up the property ladder. There are a few options but the option that is most suitable to you will be based on your circumstances and what & where you want to buy.
Help to Buy Equity Loan
Help to Buy Equity Loans are designed to help home buyers with smaller deposits buy a new build home in England, London, Scotland or Wales.
An equity loan allows the buyer to buy a new-build home with just 5% deposit. The Government will lend between 20% and 40% (15% in Scotland) depending on the location, with a mortgage making up the remaining funds. The scheme allows customers to:
Purchase a newly built home with a smaller deposit
Keep initial monthly costs down as the equity loan is fee-free for the first five years.
Example:  House Purchase Price £200,000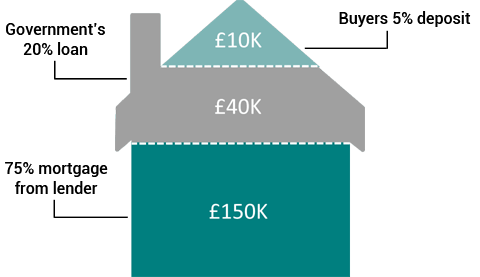 The government loan is 0% interest for the first 5 years. In year six the interest rate charged would be 1.75% of the outstanding equity amount but this can increase every year in line with the Retail Prices Index plus 1% so you need to take this into account when deciding on your overall monthly household budget and how it will affect the lenders affordability. Some Help to buy mortgage lenders would actually take a higher percentage into account to ensure that the loan remains affordable if the rate was to rise.
Things to be aware of:
Only available for New Build properties
Max LTV if 75% England and Wales and 80% for Scotland
You can put a bigger deposit down against the property, 5% is just the minimum
Not available for Buy to Lets or second home purchase
Cannot own another property in the UK or abroad
Has to be a repayment mortgage as opposed to an interest only mortgage
London Help to Buy
To reflect the higher prices in the London area the Government has increased to maximum loan from 20% to 40% for new build properties within the greater London area. For more information on London Help to Buy please visit https://www.helptobuy.gov.uk.
Help to Buy Shared Ownership
The is a help to buy backed scheme and is helpful to people who cant afford 100% of their home. This scheme will give you the option of owning a share of your home typically between 25% and 75% and then paying rent to a housing association for the remaining share. Most housing associations will give you the option of buying 100% of the share at a later date, this is also known as staircasing.
Not everyone will qualify for Shared Ownership. The scheme is only available in England and is open to first time buyers and previous home owners that cannot afford to buy their own property. You will need to show that you can afford the rent as well as the mortgage payments in order to be eligible. For more information on this type of scheme visit https://www.helptobuy.gov.uk/shared-ownership/.
To get a mortgage on a Shared Ownership scheme you will need a specific Shared ownership Mortgage and not all lenders offer this type of product. The minimum deposit required will be 5% however some lenders will require a larger deposit than this.
As this type of mortgage is quite specialist it would be sensible to seek advice from an independent mortgage adviser. Book now to have an in depth meeting with an adviser at Independent Mortgage Experts! We can help you to find a mortgage that best suits your individual circumstances.